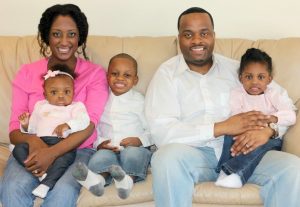 His and Her Money is a journey of how two high school sweethearts fell in love, got married, but were total opposites when it came to handling their finances.
One had debt and the other did not.
One made poor money decisions while the other made better money decisions.
One had a low credit score and the other had a stellar credit score.
About Talaat
Talaat is a U.S. Army veteran turned Special Education teacher. He is passionate about his faith in Jesus,  his family, and facing challenges head on. His understanding of money handling and management started out slow, which led him to face a consumer debt of around $ 30, 000. However, with the support of Tai his wife the family conquered the  mountain of debt and learned many valuable lessons along the way. Talaat has a Master's Degree in Education Leadership, Master's Degree in Special Education, and a Bachelor's of Science Degree in Business Administration.
About Tai
Tai is a passionate Christ follower, proud wife, and mother of three. Compassion, integrity, and serving others are a few of her strengths. However, a bag of peanut M&M's is her weakness. She is a natural hair enthusiast, and an organizational junkie. Tai has a Bachelors of Science Degree in Finance. Additionally, Tai has held a Series 6, Series 63 and Life & Health Insurance license.
She has spent years in the financial industry, helping people with loans, debt, and money matters. Loaded with experience and skills, she has now taken her knowledge to create this platform HisandHerMoney.com. Talaat, her husband calls her the Chief Operating Officer of the home. You can usually find her giving hugs and kisses to her children, organizing a hall closet or scouting out a great deal.  www.hisandhermoney.com